NUS High School Tops Physics Olympiad
The Straits Times Jan 11, 2008
NUS High tops physics contest
NUS High School bags top prizes in Singapore Physics Olympiad in its first showing
By Jane Ng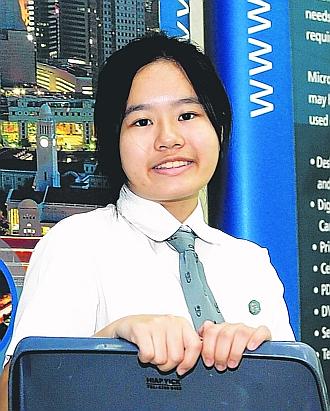 CHAMPION: Fiona Foo, 17, was the overall winner.
THE National University of Singapore (NUS) High School has had a stellar first showing in the Singapore Physics Olympiad, bagging the crown as the overall school champion as well as producing the overall winner, 17-year-old Fiona Foo.
The school, which sent 15 students for the competition held in November last year, saw 10 of them receiving prizes ranging from an honorary mention to a gold award.
Of them, nine are Singaporeans who will be part of a group of 25 vying for eight spots in the Asian Physics Olympiad to be held in April.
The school, which focuses on nurturing young talents in mathematics and science, offers a six-year integrated programme from Secondary 1, culminating in a diploma.
The student participants were from the school's first batch of students, who joined at Secondary 3 three years ago.
Like other students in the school, they go through a specialised curriculum that emphasises maths and science. They are also on a modular system, which allows them to go further in a particular subject they excel at.
Fiona, who bagged the top prize, said she enjoyed being able to pursue something she loved. She prepared for the olympiad during nights in the school hostel with the rest of her classmates.
'We took an elective to prepare for the olympiad and the classes were held at night. It was a relaxed atmosphere and I took it because I enjoyed the subject.
'There was no pressure to perform, getting the top prize was just icing on the cake,' said the only child of an accountant and a businessman, whose favourite topic was quantum information theory.
According to the Institute of Physics Singapore, which organised the competition, the top prize has traditionally been dominated by male students.
The prize presentation was held on Wednesday at Micron Semiconductor Asia. Micron Foundation was the sponsor for the olympiad.
Source: The Straits Times © Singapore Press Holdings Limited. Reprinted with permission